Weekly on Saturdays: 12:00-1:30 pm 
Location: West Springs Church: 816-78th Street SW, Calgary, Alberta T3H 6B1
Site: West Springs 
This is a 4-week long class. Held on Saturdays from 12:00-1:30 pm. We will take our students on a culinary journey in this hands-on cooking class!  Students will learn how to make various meals while igniting creativity, strengthening skills, and building confidence in each session. Students will complete this program feeling excited to take on more challenges in. the kitchen. Students will learn foundational cooking and baking skills as well as the utilization of kitchen equipment under the supervision of the lead chef instructor. This program is suitable for beginners and experienced chefs.
Specific Teaching Goals:
• Proper knife skills
• Kitchen Hygiene/Safety
• Food presentation and table setting
• Cooking and Baking skills/techniques and so much more!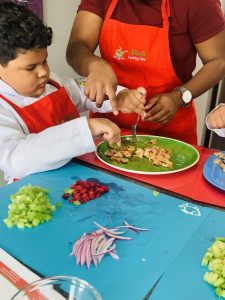 Continents covered:
• North America
• South America
• Caribbean
• Europe
• African
• Asia
Requirements: Your lovely smile and a positive attitude to learn and have fun, and a takeaway container should you have left over. If you cannot finish your food you may take it with you. Closed-toe shoes and comfortable clothing with hair tied back as you will be standing, sitting and working most of the time.
Jan 7-28
Lemon-blueberry scones
Lasagna roll-ups with homemade tomato sauce
Challah bread Perfect
Banh Mi sandwiches.       
The making of macarons
Perfecting butter tarts
Homemade Fettucine with marinara sauce
Cheese-filled ravioli with Alfredo sauce
March 4-25
Perfecting Pizza
Sushi 101
Taco Lovers
Chocolate Lava cake
Apr 8-29

Perfecting Challah bread
Taco Lovers
Chicken Cacciatori with coconut rice and plain rice
Sweet and Salty Chocolate cookies and Italian cookies
May 6-27
Lemon-blueberry scones
Lasagna roll-ups with homemade tomato sauce
Perfecting Challah bread
Banh Mi sandwiches
June 3-17
Sweet and Salty Chocolate cookies, and  Italian cookies
Perfecting butter tarts
Cheese-filled ravioli with Alfredo sauce
Sep 9-30
Nov 4-25