Description
Virtual Class or In-Person
Venue for all classes: 59 Evansborough Cres NW, Calgary, AB T3P0M3 OR St Michael Catholic Community Church, 800 85 St SW, Calgary, AB T3H 4C7
Welcome to Nini's Cooking Class. Our virtual After school program is for kiddos and teenagers. Our mission is to build a new generation of empowered cooks, engaged eaters and confident experimenters excuse we believe in experimenting you build confidence. It is designed to families, keep children, siblings and friends connect by igniting their passion for cooking and baking while making friends. It is a great activity to keep your budding chefs busy while learning and strengthening life long skills. Our program is interactive, engaging and provides a fun way for your child, their class mates and friends to hang out too.
We are bringing Nini's Cooking Class right to your kitchen. Our cooking school is designed to teach your child cooking and baking skills. In this program we will work with you step by step to develop skills, creativity, and confidence while having fun right in your home. And the best part of it…. based on feed back from parents, children in our program are now preparing meals for themselves and their families 🙂 🙂 🙂
This program is designed for children and teenagers. The class will be taught by our experienced chef using Zoom.  It is fun, engaging and interactive.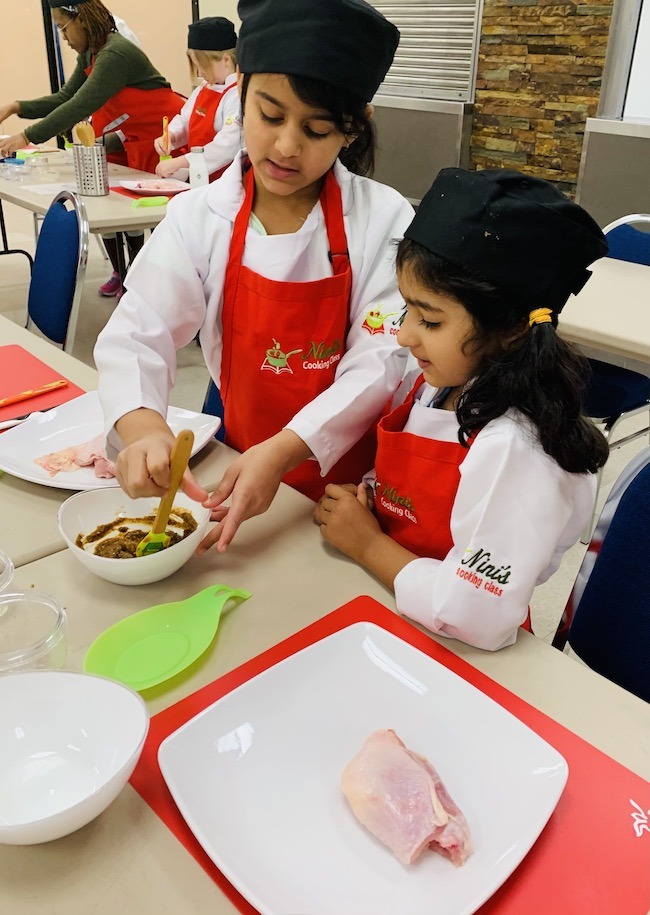 So, what will you need for this class?
1. A computer, laptop or tablet with internet connection.
2. A place to connect your device in the kitchen and a work surface to prepare your food.
3. A comfortable closed toe shoes
Once registered in the Virtual Cooking School for Kiddos and Teens, we will send you
1. A Zoom link
2. Shopping list
3. Recipes, and
4. Advise you of tools or equipments required.
If you miss a class. Grab the replay link after each class and catch up.
This will be sent via email a week to your class. Our virtual program is designed with minimal supervision from an adult to keep your child safe while ensuring that your child learns fundamental cooking and baking skills. Your budding chef will gradually build on culinary skills while enjoying global flavours throughout this session.
Please take note of your course description as well as the menu, the date, and time of class. Pay close attention to the day for your class, ok. 🙂
Virtual Class or In Person
Fabulous Breakfast : Sundays from 9:30am-11am MST (Mountain Standard Time)
Everyone deserves a hearty breakfast that will carry them through to lunch. Let's get your morning started on a refreshing note with our fabulous breakfast recipes that your child can have any day of the week. Get your morning going with a granola filled with tiny bites of sweet-tart dried cranberries, crisp coconut, citrusy orange marmalade, and a sprinkling of warm spices. It tastes divine served with creamy vanilla yogurt and fresh raspberries.
 

Menus: Jan 10 – Feb 28
1. Cranberry-Orange Granola – Jan 10 (9:30am-11am MST)
2. Chef Nini's one pan French toast Omelette -Jan 17 (9:30am-11am MST)
3. Lemon poppy seed Swedish pancakes – Jan 24 (9:30am-11am MST)
4. French toast with lemon-parmesan sauce – Jan 31 (9:30am-11am MST)
5. Orange cranberry muffins – Feb 7 (9:30am-11am MST)
6. Loaded breakfast casserole – Feb 14 (9:30am-11am MST)
7. Denver Omelet Nachos with hash-brown potatoes – Feb 21 (9:30am-11am MST)
8. Sausage and potato Fritata – Feb 28 (9:30am-11am MST)
Menus: Mar 7 – Apr 25
1. Egg Boat with Bacon, Avocado, and Tomato – March 7  (9:30am-11am MST)
2. Chef Nini's one pan French toast Omelette – March 14 (9:30am-11am MST)
3. Breakfast Quesadillas  – March 21 (9:30am-11am MST)
4. Apple Puff Pancake with Apple cider-caramel sauce – March 28 (9:30am-11am MST)
5. French Toast Roll Ups with orange juice  – Apr 4 (9:30am-11am MST)
6. Ham and Cheddar monkey bread with honey-mustard dipping sauce – Apr 11 (9:30am-11am MST)
7. Mango Smoothie bowl and/or Dragon Fruit smoothie bowl – Apr 18 (9:30am-11am MST)
8. Blueberry Pancakes with Blueberry syrup – Apr 25 (9:30am-11am MST)
Menus: May 2 – Jun 20
1. Cranberry-Orange Granola and/or Green smoothie bowl and Mango bowl – May 2 (9:30am-11am MST)
2. Chef Nini's one pan French toast Omelette – May 9 (9:30am-11am MST)
3. Lemon poppy seed Swedish pancakes – May 16 (9:30am-11am MST)
4. French toast with lemon-parmesan sauce – May 23 (9:30am-11am MST)
5. Orange cranberry muffins – May 30 (9:30am-11am MST)
6. Loaded breakfast casserole   and/ or Caramel Apple Cinnamon Rolls– June 6 (9:30am-11am MST)
7. Denver Omelet Nachos with hash-brown potatoes – June 13 (9:30am-11am MST)
8. Sausage and potato Fritata – June 20 (9:30am-11am MST)
Menus: Sep 5 – Oct 17
1. Egg Boat with Bacon, Avocado, and Tomato –  (9:30am-11am MST)
2. Potato Croquettes with Saffron Aioli –  (9:30am-11am MST)
3. Breakfast Quesadillas  – (9:30am-11am MST)
4. Apple Puff Pancake with Apple cider-caramel sauce –  (9:30am-11am MST)
5. French Toast Roll Ups with orange juice  –  (9:30am-11am MST)
6. Ham and Cheddar monkey bread with honey-mustard dipping sauce –  (9:30am-11am MST)
7. Mango Smoothie bowl and/or Dragon Fruit smoothie bowl and/or Blueberry Pancakes with Blueberry syrup – (9:30am-11am MST)
Additional information
| | |
| --- | --- |
| Location | Virtual Class, In-Person |
| Dates | Jan 10 – Feb 28, Mar 7 – Apr 25, May 2 – Jun 20, Sep 5 – Oct 17 |