Virtual Class or In-Person
Venue for all classes: 59 Evansborough Cres NW, Calgary, AB T3P0M3   OR  Westsprings Church 816 78 Street SW, Calgary, AB T3H (based on number of participants).
This is a 4- 8 week long class based on the one you sign up for. We will take our students on a culinary journey in this hands-on cooking class! We will learn how  to make various meals while igniting creativity, strengthening skills, and building confidence in each session. Students will complete this program feeling excited to take on more challenges in. the kitchen. No previous chef experience needed and beginners are always welcome. Our chef will supervise and assist throughout the class.
Welcome to Nini's Cooking Class. Our in-person or virtual After school program is for kiddos and teenagers. Our mission is to build a new generation of empowered cooks, engaged eaters and confident experimenters excuse we believe in experimenting you build confidence. It is designed to families, keep children, siblings and friends connect by igniting their passion for cooking and baking while making friends. It is a great activity to keep your budding chefs busy while learning and strengthening life long skills. Our program is interactive, engaging and provides a fun way for your child, their class mates and friends to hang out too.
We are bringing Nini's Cooking Class right to your kitchen. Our cooking school is designed to teach your child cooking and baking skills. In this program we will work with you step by step to develop skills, creativity, and confidence while having fun right in your home. And the best part of it…. based on feed back from parents, children in our program are now preparing meals for themselves and their families 🙂 🙂 🙂
This program is designed for children and teenagers. The class will be taught by our experienced chef using Zoom or in person.  It is fun, engaging and interactive.  For in person class, all ingredients and kits for class are provided by Niniscooking team.
So, what will you need for this class if signing up for a virtual?
1. A computer, laptop or tablet with internet connection.
2. A place to connect your device in the kitchen and a work surface to prepare your food.
3. A comfortable closed toe shoes
Once registered in the Virtual Cooking School for Kiddos and Teens, we will send you
1. A Zoom link
2. Shopping list
3. Recipes, and
4. Advise you of tools or equipments required.
If you miss a class. Grab the replay link after each class and catch up.
This will be sent via email a week to your class. Our virtual program is designed with minimal supervision from an adult to keep your child safe while ensuring that your child learns fundamental cooking and baking skills. Your budding chef will gradually build on culinary skills while enjoying global flavours throughout this session.
Please take note of your course description as well as the menu, the date, and time of class. Pay close attention to the day for your class, ok. 🙂
Sweet and Savoury : Saturdays: 11-1pm or Sundays 1:30-3:30pm MST
Menu: Jan 8- Feb 26, 2022 – Saturdays @ 11-1pm
Jan 8, 15,22, 29, Feb 5, 12, 19,26,
Menu: Jan 9-Feb 27, 202 – Sundays @ 1:30-3:30pm
Jan 9,16, 23, 30, Feb 6, 13, 20, 27
Caramel Apple Cinnamon Rolls
Polar bear cupcakes
Chef Nini's special Coco-chicken bites with home made sauce
Empanadas de pina coco
Jamaican beef patties
Orange chicken garnished with sesame sprinkles
Peanut butter pretzel and Chewy Honey Granola Bars
Classic Lemon Cranberry scones with lemon glaze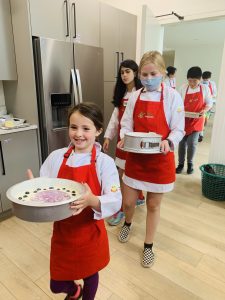 Menu: March 5-April 23, 2022
March 5, 12, 19, 26, April 2, 9, 16, 23
Menu: March 6- April 24, 2022
March 6, 13, 20, 27, April 3, 10, 17, 24
Caramel Apple Cinnamon Rolls
Chef Nini's special Coco-chicken bites with home made sauce
Empanadas de pina coco
Orange chicken with sesame sprinkles
Home made glazed doughnuts with chocolate and sprinkles
Peanut butter pretzel and Chewy Honey Granola Bars
Classic Lemon Cranberry scones with lemon glaze
Barbecue Chicken Bruschetta
Menu: April 30-June 18, 2022
April 30, May 7, 14, 21, 28, June 4, 11, 18
Menu: May 1-June 26, 2022
May 1, 15, 22, 29, June 5, 12, 26
Baked Tortilla chips with guacamole/ mango pineapple slush
Pina colada cupcakes
Lemon blueberry cheesecake
Lemon butter chicken tenders
Rainbow cookies
Very Spring cake pops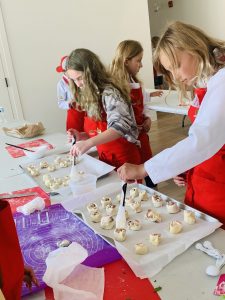 Home made glazed doughnuts with chocolate and sprinkles
Barbecue Chicken Bruschetta
Menu: Sept 10 – Oct 29, 2022
Sept 10, 17, 24, Oct 1, 8, 15, 22, 29
Menu: Sept 4 – Oct 23, 2022
Sept 4, 11, 25, Oct 2, 9, 16, 23
Meringue kisses
Letting Peanut butter mice run
Pigs in a blanket
Cinnamon roll macaroons
Fig and Almond cookies
Cuccidati
Home made doughnuts with chocolate/glazed sprinkles
Peppermint marshmallows with hot cocoa stirrers
Menu: Nov 5 – 26, 2022
Nov 5, 12, 19, 26
Menu: Nov 6 – 27, 2022
Nov 6, 13, 20, 27
Peppermint marshmallows with hot cocoa stirrers
Peppermint bark cheesecake
Caramel Apple Cinnamon Rolls
Peanut butter Christmas mice
Polar bear cupcakes