In-Person
Saturday Location: West Springs Church: 816-78th Street SW, Calgary, Alberta T3H 6B1
Sunday Location:59 Evansborough Cres NW, Calgary, Alberta T3P 0M3
Sweet and Savoury : Saturdays: 11-1pm (West Springs location) Sundays 1:30-3:30pm ( Evansborough location)
OVERVIEW: Welcome to Nini's Cooking Class. In this class we will  focus on sweet and savoury treats and/or meals. 
Our in-person After school program is for kiddos and teenagers. Our mission is to build a new generation of empowered cooks, engaged eaters and confident experimenters . It is designed to keep children, siblings, families, and friends connect and develop independent living skills by igniting their passion for cooking and baking while making friends. It is a great activity to keep your budding chefs busy while learning and strengthening life long skills. Our program is very hands-on, interactive, engaging and provides a fun way for children, classmates, and friends to hang out too.
In this program we will work with you step by step to develop skills, creativity, and confidence while having fun.. And the best part of it…. based on feedback from parents, children in our program are now preparing meals for themselves and their families.
We invite you to also attend our camps. Nini's Cooking camp is one of our favourite time of the year. It allows us the opportunity to build relationships, go in-depth and get even more creative in the kitchen, learn global cuisines, and laugh while enjoying tasty meals and engaging in other activities.
Our curriculum will also expose your budding chef the following areas:
• Kitchen safety
• Meal planning
• Knife skills
• Baking and pastry skills
• Cooking techniques
• Etiquette and manners
• Food Presentation
• Proper food handling
• Food preparation
• Table setting
• Kitchen hygiene
• How to prepare dinner for your family
• And so much more!
Continents covered:
• North America
• South America
• Caribbean
• Europe
• Africa
• Asia
Requirement 1: Your lovely smile and a positive attitude to learn and have fun,a small take away container should you have left over. If you cannot finish your food you may take it with you.
Requirement 2: For kitchen safety reasons, please wear indoor closed toe shoes only, comfortable clothing, and have your hair tied  back as you will be standing, sitting and working most of the time.
Menu: Jan, 2022 – Saturdays @ 11-1pm
Jan 8, 15,22,29
Caramel Apple Cinnamon Rolls
Polar bear cupcakes
Chef Nini's special Coco-chicken bites with homemade sauce
Empanadas de pina coco
Menu: Jan, 2022 – Sundays @ 1:30-3:30 pm
Jan 9,16, 23, 30
Caramel Apple Cinnamon Rolls
Polar bear cupcakes
Chef Nini's special Coco-chicken bites with homemade sauce
Empanadas de pina coco
Menu: Feb, 2022 – Saturdays @ 11-1pm
Feb 5, 12, 19, 26
Jamaican beef patties
Orange chicken garnished with sesame sprinkles
Peanut butter pretzel and Chewy Honey Granola Bars
Classic Lemon Cranberry scones with lemon glaze
Menu: Feb, 2022 – Sundays @ 1:30-3:30 pm
Feb 6, 13, 20, 27
Jamaican beef patties
Orange chicken garnished with sesame sprinkles
Peanut butter pretzel and Chewy Honey Granola Bars
Classic Lemon Cranberry scones with lemon glaze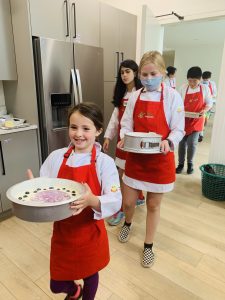 Menu: March, 2022 – Saturdays @ 11-1pm
March 5, 12, 19, 26
Caramel Apple Cinnamon Rolls
Chef Nini's special Coco-chicken bites with homemade sauce
Empanadas de pina coco
Orange chicken with sesame sprinkles
Menu: March, 2022 – Sundays @ 1:30-3:30 pm
March 6, 13, 20, 27,
Caramel Apple Cinnamon Rolls
Chef Nini's special Coco-chicken bites with homemade sauce
Empanadas de pina coco
Orange chicken with sesame sprinkles
Menu: April, 2022 – Saturdays @ 11-1pm
April 2, 9, 16, 23
Homemade glazed doughnuts with chocolate and sprinkles
Peanut butter pretzel and Chewy Honey Granola Bars
Classic Lemon Cranberry scones with lemon glaze
Barbecue Chicken Bruschetta
Menu: April, 2022 – Sundays @ 1:30-3:30 pm
April 3, 10, 17, 24
Homemade glazed doughnuts with chocolate and sprinkles
Peanut butter pretzel and Chewy Honey Granola Bars
Classic Lemon Cranberry scones with lemon glaze
Barbecue Chicken Bruschetta
Menu: May, 2022 – Saturdays @ 11-1pm
May 7, 14, 21, 28
Pina colada cupcakes
Lemon blueberry cheesecake
Lemon butter chicken tenders
Baked Tortilla chips with guacamole/mango pineapple slush
Menu: May, 2022- Sundays @ 1:30-3:30 pm
May 1, 15, 22, 29
Pina colada cupcakes
Lemon blueberry cheesecake
Lemon butter chicken tenders
Baked Tortilla chips with guacamole/mango pineapple slush
Menu: June, 2022 – Saturdays @ 11-1pm
June 4, 11, 18, 25
Baked Tortilla chips with guacamole/ mango pineapple slush
Pina colada cupcakes
Lemon blueberry cheesecake
Lemon butter chicken tenders
Menu: May, 2022- Sundays @ 1:30-3:30 pm
June 5, 12, 19, 26
Rainbow cookies
Very Spring cake pops
Homemade glazed doughnuts with chocolate and sprinkles
Jamaican patties
Orange chicken garnished with sesame sprinkles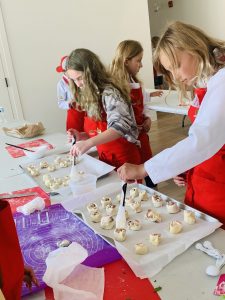 Menu: Sept, 2022- Saturdays @ 11-1 pm
Sept 7, 14, 21, 28
Meringue kisses
Letting Peanut butter mice run
Pigs in a blanket
Cinnamon roll macaroons
Menu: Sept, 2022- Sundays @ 1:30-3:30 pm
Sept 3, 10, 17, 24
Meringue kisses
Letting Peanut butter mice run
Pigs in a blanket
Cinnamon roll macaroons
Menu: Oct, 2022- Saturdays @ 11-1pm
Oct 1, 8, 15, 22
Fig and Almond cookies
Cuccidati
Homemade doughnuts with chocolate/glazed sprinkles
Peppermint marshmallows with hot cocoa stirrers
Menu: Oct, 2022- Sundays @ 1:30-3:30 pm
Oct 2, 9, 16, 23
Fig and Almond cookies
Cuccidati
Homemade doughnuts with chocolate/glazed sprinkles
Peppermint marshmallows with hot cocoa stirrers
Menu: Nov, 2022- Saturdays @ 11-1pm
Nov 5, 12, 19, 26
Peanut butter Christmas mice
Polar bear cupcakes
Peppermint bark cheesecake
Peppermint marshmallows with hot cocoa stirrers
Caramel Apple Cinnamon Rolls
Menu: Nov, 2022- Sundays @ 1:30-3:30 pm
Nov 6, 13, 20, 27
Peanut butter Christmas mice
Polar bear cupcakes
Peppermint bark cheesecake
Peppermint marshmallows with hot cocoa stirrers
Caramel Apple Cinnamon Rolls