Venue for all classes:
Location: 
West Springs Church: 816-78th Street SW, Calgary, Alberta T3H 6B1
This is 4 weeks long in-person class. We will take our students on a culinary journey in this hands-on cooking class! We will learn how  to make various meals while igniting creativity, strengthening skills, and building confidence in each session. Students will complete this program feeling excited to take on more challenges in. the kitchen. No previous experience needed and beginners are always welcome. Our chef will supervise and assist throughout the class.
Welcome to Nini's Cooking Class. Our In-person After school program is for kiddos and teens. Our mission is to build a new generation of empowered cooks, engaged eaters and confident experimenters. We believe that in experimenting we build confidence. The program is designed to keep children, siblings and friends connect by igniting their passion for cooking and baking while making friends. Our program is a great activity to keep your budding chefs busy while learning and strengthening life long skills. Our program is very hands-on, interactive, engaging and provides a fun way for your child, their classmates and friends to hang out too. The weekly classes gives children the opportunity to learn skills throughout the year and explore various meals around the world.
Our cooking school is designed to teach your child cooking skills and techniques. In this program we will work with your child step by step to develop skills, creativity, and confidence while having fun. We want your child to practice skills learned and to reach out to us for support while practicing skills at home. Consistent students from our program take on the responsibility of preparing family meals at home regularly. Based on feedback from parents, children in our program are excited to prepare meals for themselves and their families. I truly enjoy watching videos and photos of students cooking in their homes. When you enrol your child, we would love to see some photos and videos too:)
Class dates: Jan 8, 15 22, 29, 2022 (Saturdays)
Tenderloin Grillades with Bacon relish  served with Cheesy Grits
Roasted Grape tomato and garlic spaghetti with fresh arugula to serve with Cheesy-pesto pinwheels
Lasagna salad with honey-balsamic syrup
Chipotle Carbonara
Class dates: Feb 5, 12 19, 26, 2022 (Saturdays)
Mediterranean Fried rice
Spanish Tomato soup with paprika-roasted potatoes
Jamaican beef patties
Chicken Fettucini with Alfredo
Class dates: March 5, 12, 19, 26, 2022 (Saturdays)
Jamaican beef patties
Turkey & Avocado quesadillas with chipotle-cranberry sauce
Coco-Jollof rice with seasonal salad
Buffalo chicken and ranch wrap
Class dates: April 2, 9, 16 23, 2022 (Saturdays)
Low carb korean beef lettuce wraps
Veggie quesadillas
Spinach bean salad with chicken
Butter chicken and naan bread
Class dates: May 7, 14, 21, 28, 2022 (Saturdays)
Pork and Soba noodle bowls with ginger-peach vinaigrette
Tenderloin Grillades with Bacon relish  served with Cheesy Grits
Roasted Grape tomato and garlic spaghetti with fresh arugula to serve with Cheesy-pesto pin wheels
Lasagna salad with honey-balsamic syrup
Class dates: June 4, 11, 18, 25, 2022 (Saturdays)
Chipotle Carbonara
Chicken pot pie
Veggie quesadillas
Butter chicken and naan bread
Class dates: Sept 3, 10, 17, 24 , 2022 (Saturdays)
Tenderloin Grillades with Bacon relish  served with Cheesy Grits
Roasted Grape tomato and garlic spaghetti with fresh arugula to serve with Cheesy-pesto pin wheels
Lasagna salad with honey-balsamic syrup
Chipotle Carbonara
Class dates: Oct 1, 8, 15, 22, 2022 (Saturdays)
Mediterranean Fried rice
Spanish Tomato soup with paprika-roasted potatoes
Buffalo chicken and ranch wrap
Shamani cookies
Class dates: Nov 5, 12, 19, 26, 2022 (Saturdays)
Coco-Jollof rice with seasonal salad
Buffalo chicken and ranch wrap
Low carb Korean beef lettuce wraps
Veggie quesadillas
Italian chickpea soup
---
Class dates: Jan 8, 15 22, 29, 2022 (Saturdays)
Tenderloin Grillades with Bacon relish  served with Cheesy Grits
Roasted Grape tomato and garlic spaghetti with fresh arugula to serve with Cheesy-pesto pinwheels
Lasagna salad with honey-balsamic syrup
Chipotle Carbonara
Class dates: Feb 5, 12 19, 26, 2022 (Saturdays)
Mediterranean Fried rice
Spanish Tomato soup with paprika-roasted potatoes
Jamaican beef patties
Chicken Fettucini with Alfredo
Class dates: March 5, 12, 19, 26, 2022 (Saturdays)
Jamaican beef patties
Turkey & Avocado quesadillas with chipotle-cranberry sauce
Coco-Jollof rice with seasonal salad
Buffalo chicken and ranch wrap
Class dates: April 2, 9, 16 23, 2022 (Saturdays)
Low carb korean beef lettuce wraps
Veggie quesadillas
Spinach bean salad with chicken
Butter chicken and naan bread
Class dates: May 7, 14, 21, 28, 2022 (Saturdays)
Pork and Soba noodle bowls with ginger-peach vinaigrette
Tenderloin Grillades with Bacon relish  served with Cheesy Grits
Roasted Grape tomato and garlic spaghetti with fresh arugula to serve with Cheesy-pesto pin wheels
Lasagna salad with honey-balsamic syrup
Class dates: June 4, 11, 18, 25, 2022 (Saturdays)
Chipotle Carbonara
Chicken pot pie
Veggie quesadillas
Butter chicken and naan bread
Class dates: Sept 3, 10, 17, 24 , 2022 (Saturdays)
Tenderloin Grillades with Bacon relish  served with Cheesy Grits
Roasted Grape tomato and garlic spaghetti with fresh arugula to serve with Cheesy-pesto pin wheels
Lasagna salad with honey-balsamic syrup
Chipotle Carbonara
Class dates: Oct 1, 8, 15, 22, 2022 (Saturdays)
Mediterranean Fried rice
Spanish Tomato soup with paprika-roasted potatoes
Buffalo chicken and ranch wrap
Shamani cookies
Class dates: Nov 5, 12, 19, 26, 2022 (Saturdays)
Coco-Jollof rice with seasonal salad
Buffalo chicken and ranch wrap
Low carb Korean beef lettuce wraps
Veggie quesadillas
Italian chickpea soup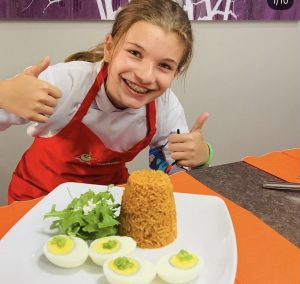 [/vc_column_text][/vc_column][/vc_row]